Businesses tend to cut costs and budgets during an economic downturn such as a stagflation, but this threatens their overall brand health. Find out how FMCG brands can weather the storm—even with tighter marketing budgets— when they leverage consumer insights gained from agile market research.
Tough Times Ahead
The world is experiencing a cost-of-living crisis, and Malaysia is not spared. Against the backdrop of geo-political tensions, supply chain disruptions, and the recent removal of price controls on selected food items, consumers now have no choice but to face the brunt of increased grocery prices.

Past economic crises show that consumers would set stricter priorities and reduce their spending. In turn, businesses would cut costs, reduce prices and suspend other interests.
However, our latest consumer research study— with a sample size of 557 survey respondents who are 18 years old and above, and are decision makers in their household when buying groceries — found that consumers' attitudes towards grocery shopping remain largely unchanged. But this doesn't mean FMCG brands can rest easy as consumers are becoming increasingly scrutinous of brands' initiatives during these challenging times.
Spending Paradoxes
It's a classic supply and demand situation in which there is simply not enough to meet demand, causing prices to increase. But in a paradoxical sense, some consumers do buy more when prices go up by forgoing nutritious diets and bulking up on more affordable essentials such as bread.

But with money tight for some and uncertainty looming many, how consumers prioritise and justify purchases within product categories may change. Their buying behaviour may also be influenced by different ways, formats, channels and frequency. These insights can help FMCG brands understand evolving consumption patterns to fine-tune their strategies accordingly.

In this article, we have identified 5 consumption trends that will rise during tough economic times in Malaysia and discussed how FMCG brands should address them.

Insights and Actions
Trend #1 - 38% of consumers do

grocery shopping online AND offline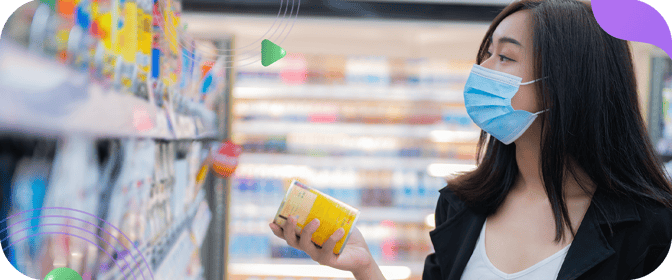 Many are still grocery shopping in-store with an average visit of 3.98 physical stores
Our survey results show that consumers - who we refer as 'hybrid' shoppers - still actively shop offline with 56% exclusively doing grocery shopping at physical stores. While investing in digital marketing efforts is vital in this highly digitalised word, brands must not overlook the importance of offline marketing; especially now that offline advertising is getting more affordable because a lot of attention and focus is given to online marketing.

It's worth relooking and evaluating entire marketing strategies to ensure that these strategies consist of a good balance of both online and offline activities such as setting up advertisements at different offline touchpoints.
Trend #2 - Hybrid shoppers prefer to

buy items with long shelf life online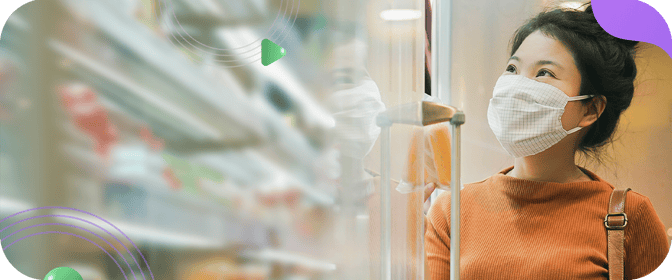 Different comfort levels when buying food-items online and in-store
When purchasing online, more consumers would purchase slightly sturdier items, such as biscuits (63%), canned food (52%) and cereal (40%). 22% or fewer would purchase refrigerated items such as milk, butter, yoghurt and ice cream online, while at least 65% would purchase these items in-store. There are numerous factors to this but let's use distance, waiting time and storage for discussion's sake. Marketers may explore channels such as on-demand delivery to support the mentioned criteria, but beyond this lie opportunities for innovation-led growth that not many brands know how to seize.
Download our latest consumer insight report on the FMCG industry
According to McKinsey, executives who focus on maintaining business continuity during a crisis often pause investments in innovation with the belief that they will return to innovation-led efforts once things have stabilised; only to find out that this decision hinders agility towards delivering new values to shifting customer needs. Keeping a pulse on consumers and having the ability to drive value-driven innovation give FMCG brands a leg up against competitors who rely on an obsolete approach of stable, predictable growth.
Trend #3 – 52% of consumers use

e-wallets at physical stores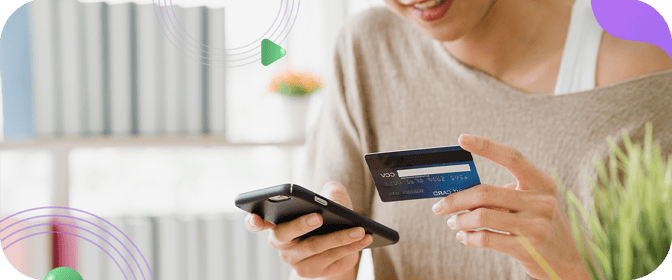 E-commerce platforms see the highest number of consumers using e-wallet
Our study also found that e-wallets are fast becoming a preferred payment mode especially among hybrid shoppers. While it was evident that digital payments were preferred by both retailers and consumers during the COVID-19 pandemic as contactless payment could help minimise the spread of the virus, digital payments are going to stay for the long run.

Other than its convenience, attractive incentives such as discounts, loyalty points and other deals drive more consumers to adopt the cashless trend. With Apple Pay recently making its debut it Malaysia and joining the long list of e-wallets, brands can explore partnership opportunities with e-wallet providers and/or retailers that consider less tech-savvy, usually older consumers into their targeting as these consumers are often those with higher purchasing powers.
Trend #4 –Consumers

buy similar brands

for at least within 6 months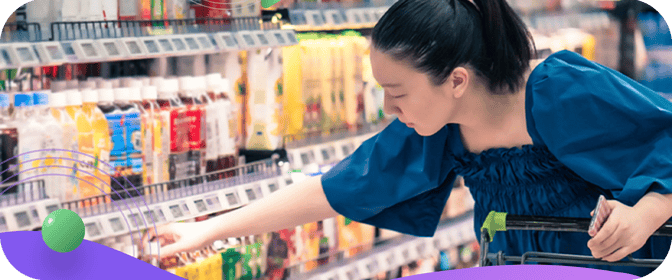 Brand preference does not equal to brand loyalty
The survey results illustrate that consumers have been buying similar brands of bread, canned sardines/tuna and cooking oil. In the category of bread, the data shows consumers would switch brands if prices increased for their usual brands. As for the cooking oil category, 37% would switch brands if their usual brands increased their prices without explanation or warning

While consumers appear to be set in their brand preferences, they cite availability, an increase in price and promotions as being convincing enough to lure them away from their usual bread and cooking oil brands. Satisfaction is necessary but it is not sufficient. Engage rather than bribe through 'loyalty programmes' and turn preference into loyalty.
Trend #5 – 37% want brands to

inform plans for price increase in advance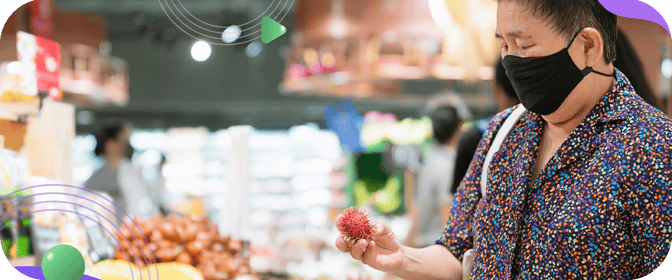 Only 7% to 8% say nothing would make them switch to a different brand
Even though more consumers (53% - 41%) would switch to a different brand if the usual brand they've been purchasing increased its price, it's worth noting that 37% - 30% would if it increased without warning for bread and oil categories. This insight informs businesses that they should be more careful and transparent when implementing price or product adjustments to maintain business continuity during tough times.

According to Dholakia (2021) from Harvard Business Review, companies should consider these actions when communicating a price increase:
It's important to communicate to customers with transparency and empathy — no matter how small or big a big business is. Unilever, one of the biggest consumer goods companies, explained to and warned investors and customers that it would have to increase prices amid global supply chain disruptions and managed to achieve underlying sales growth of 8.1%. Acknowledging customer concerns shows empathy and understanding, and is essential to great communication.
Being Agile in the Face of Uncertainty
FMCG brands have a tough job on their hands marketing to everyday consumers in today's highly competitive, changing climate. And today's consumers have high expectations despite difficult and challenging times, leaving brands to adapt and meet these expectations. The only way to respond to this complexity is to act quickly and confidently; that's true agility.
Read our report for more key insights from this research.