From Scents to Insights:
Complemen+ Thrives with Vase.ai
Vase.ai's AI-powered platform enabled Complemen+ to conduct surveys and gather data from a large sample of scented candle users in a short amount of time. By analyzing the data collected, Vase.ai provided Complemen+ with detailed insights into their target audience, including their favorite candle scents, how often they burn candles, and what types of occasions they typically use candles for.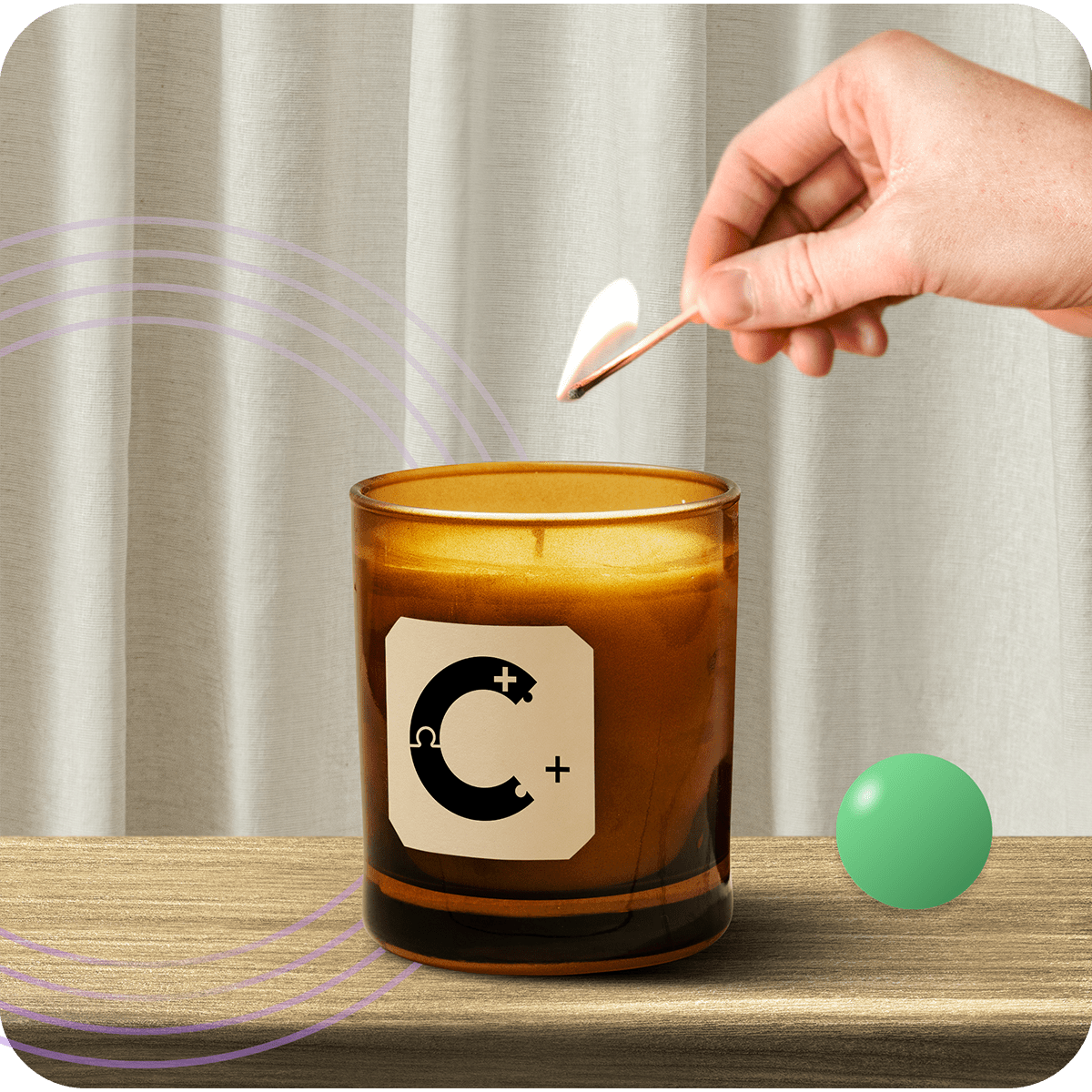 Project Brief
Complemen+ wants to curate the best range of scented candles for users in Malaysia and Singapore. In order to achieve this goal, it was essential to understand their scented candle users and gather insights about the preferences, needs, and expectations of users.
Complemen+, a candle company founded by Malaysian entrepreneurs Amrit and Sai Suraj Ravi, sought to create unique candles that complemented different experiences. Their vision was to curate scents that matched specific moods, activities, or preferences, transforming their brand into an experience-based company. To achieve this, Complemen+ turned to Vase technology for consumer insights and market validation.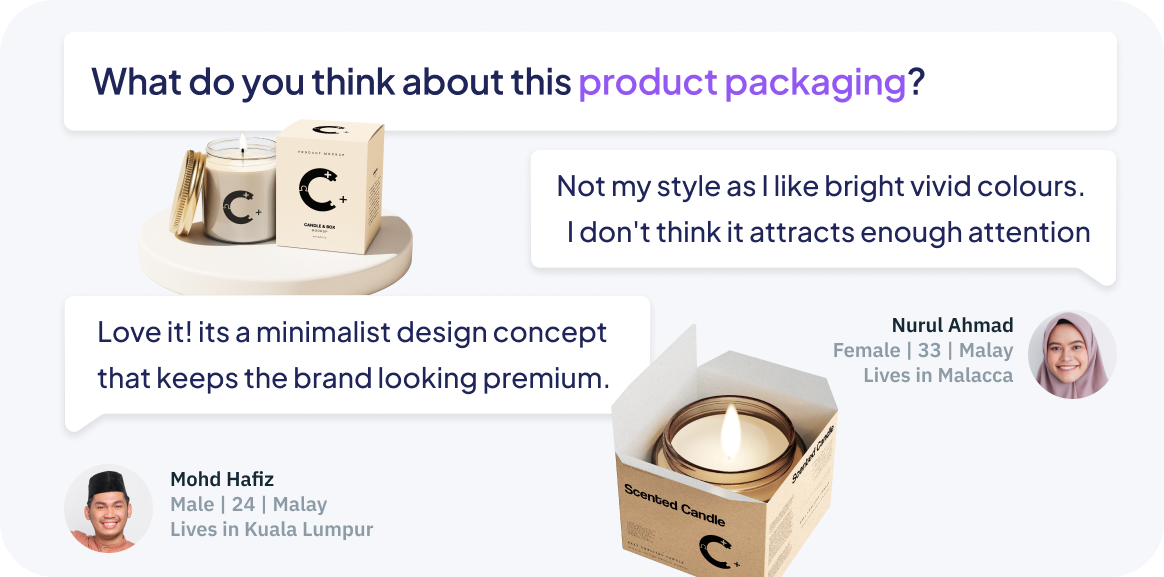 Utilising Vase Technology
Previously, the Complemen+ team faced challenges in acquiring market research data, which was both costly and time-consuming. However, after discovering Vase, they realised the benefits it offered, including affordability, ease of use, and comprehensive data analysis. Vase.ai redefines the speed of market research, capturing 435 qualified responses in days. With live insights available in a matter of hours, the Complemen+ team can make informed decisions faster than ever before.
Cracking the Code
Decoding Consumer Behavior and Market Trends
Through Vase, Complemen+ was able to gain valuable consumer insights and identify emerging market trends. By filtering their sample sets, they focused on candle users, enabling a more targeted analysis. This approach allowed them to understand their potential customers better.
Scent-sational Innovations: Crafting with Vase Insights
Complemen+'s long-term vision extended beyond candles. They aimed to become an experience-based company, curating scents that aligned with various activities, such as watching movies or reading books. With Vase insights, they devised plans to provide personalised recommendations to customers based on their preferences and playlists. By leveraging customer data, Compliment aimed to enhance their product offerings and create a seamless connection between scents and experiences.
A Scented Success Story: Empowering Growth
Vase technology played a crucial role in Complemen+'s journey by providing valuable consumer insights, validating market potential, and shaping their product development strategies. Through Vase, Complemen+ identified target market segments, discovered market trends, and refined their approach to cater to specific customer preferences. Armed with these insights, Complemen+ was equipped to position themselves effectively in the market, driving growth and creating a unique experience-based brand.
The Candle Conversion: Conquering New Markets
By analysing the data, Complemen+ discovered that a significant portion of their target market consisted of candle users who were predominantly women. Additionally, they found that a substantial number of male consumers preferred air fresheners over candles. Armed with these insights, Complemen+ devised strategies to convert male consumers by initially targeting them with car fresheners before transitioning them to candle usage, while implementing new scents combos that women were looking for.
Captivating Markets Across Borders
Vase technology enabled Complemen+ to gather data from both Malaysian and Singaporean consumers. They found that the Singaporean market exhibited a significantly higher purchasing power, with 90% of candle users earning 12,000 ringgit or more compared to 56% in Malaysia. This insight influenced Complemen+'s pricing strategy for each market and indicated the potential for expansion into global markets.
Corporate Gifting Opportunities
Vase insights revealed that a considerable number of corporate executives and managers were candle users. Recognizing this untapped opportunity, Complemen+ team explored the corporate gifting market as an additional revenue stream. By leveraging Vase data, they identified the potential for their candles to become popular gifts for businesses, allowing them to establish themselves as a go-to corporate gifting option.
Investor Pitching with Confidence:
Complemen+, armed with solid market validation data from Vase, felt more confident during their investor pitches. The insights they obtained allowed them to highlight the market's potential, identify their target audience, and demonstrate their commitment to making data-driven decisions. Investors were impressed by Compliment's deep understanding of consumer preferences and their innovative strategies to cater to those preferences.
More Case Studies for you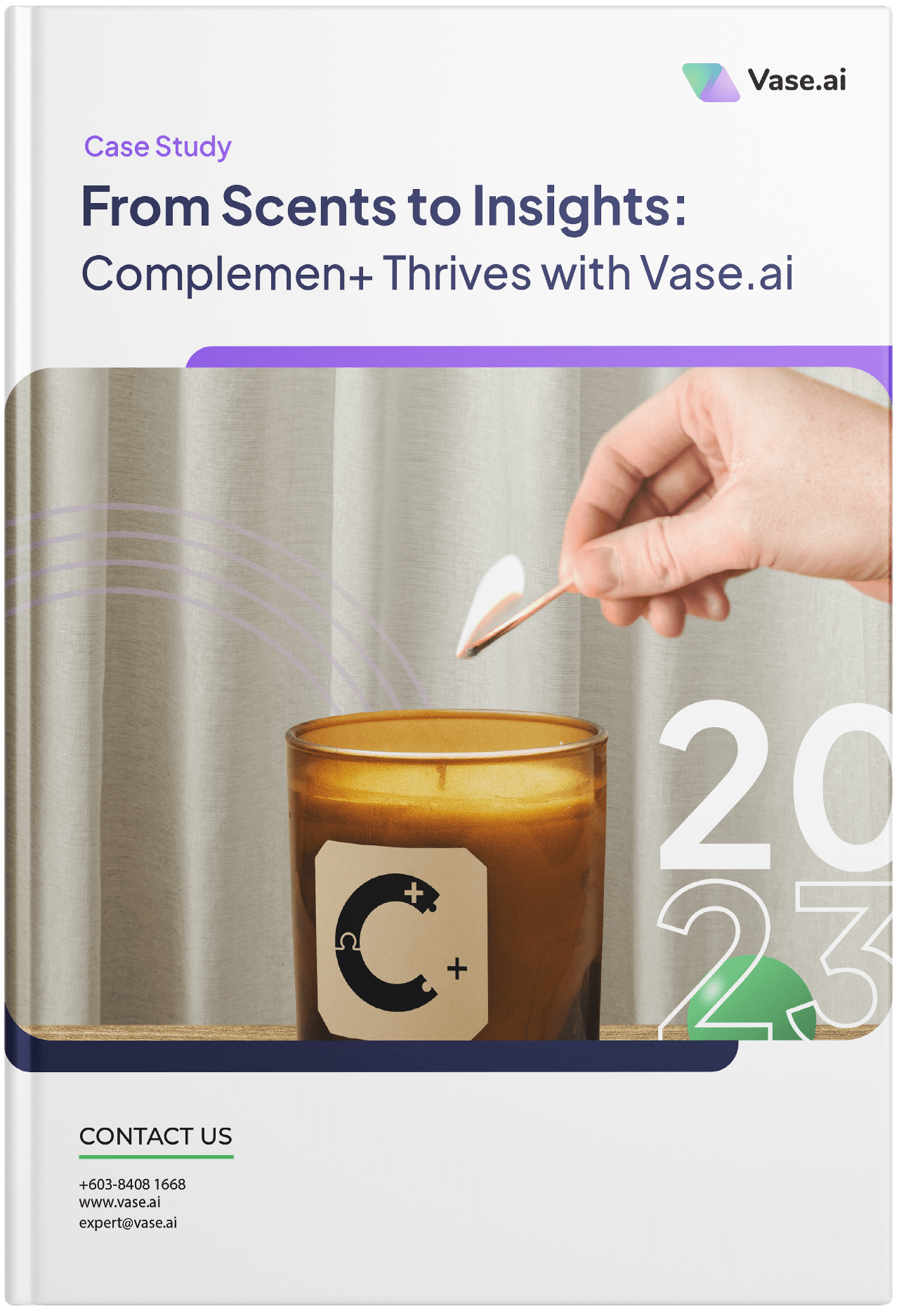 Case Study
Download our latest case study by filling up this form!
Join 250+ companies using Vase.ai today
Better consumer research starts here.