In early September 2020, Vase.ai teamed up with Undi 18, Architects of Diversity (AOD) and Women's Aid Organisation (WAO) to run a study on Malaysia's current Social and Economic issues. The study comprised of several categories of current and possible policies in Malaysia. It was intended to discover Malaysians level of agreement on these policies. This research is an attempt at identifying what Malaysians are undecided on, in order to facilitate discussions and better education/awareness on these particular issues.
Survey questions were jointly developed by Vase.ai, Architects of Diversity and Undi18. The survey was administered from 2nd -3rd September, 2020. Respondents were able to answer the survey in English, Bahasa Melayu or Mandarin. 1,027 responses were included in the final sample.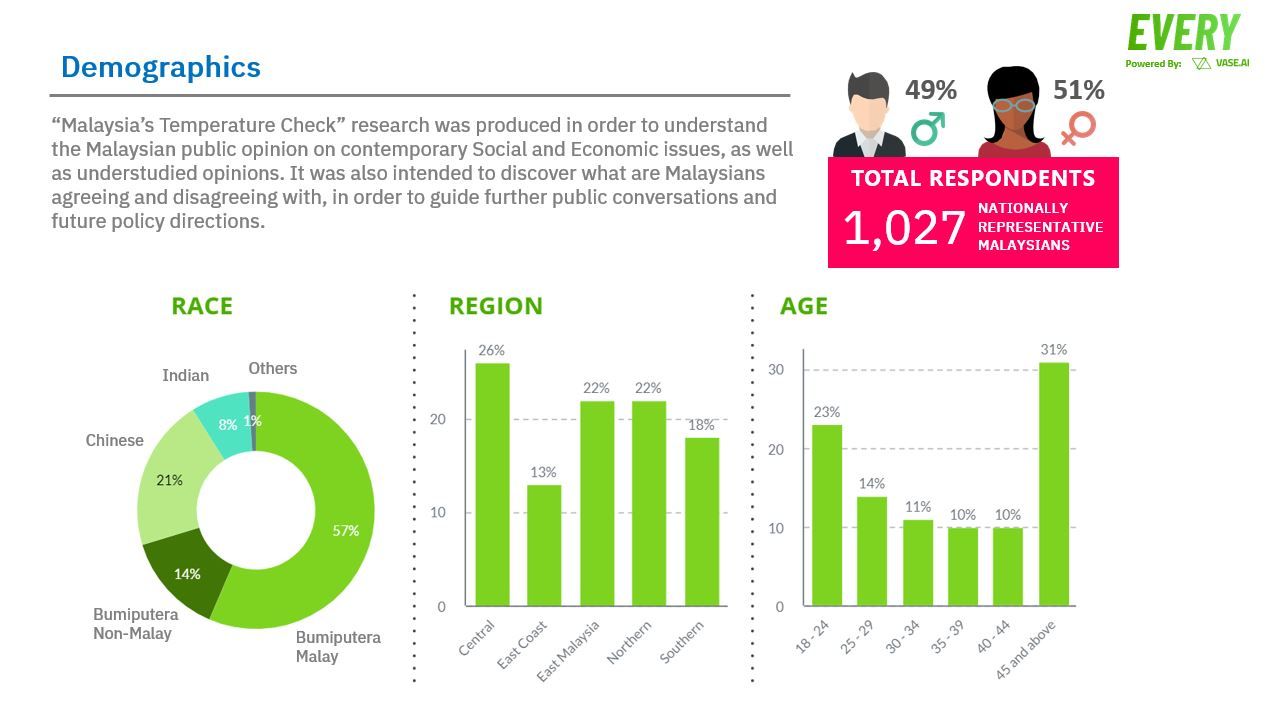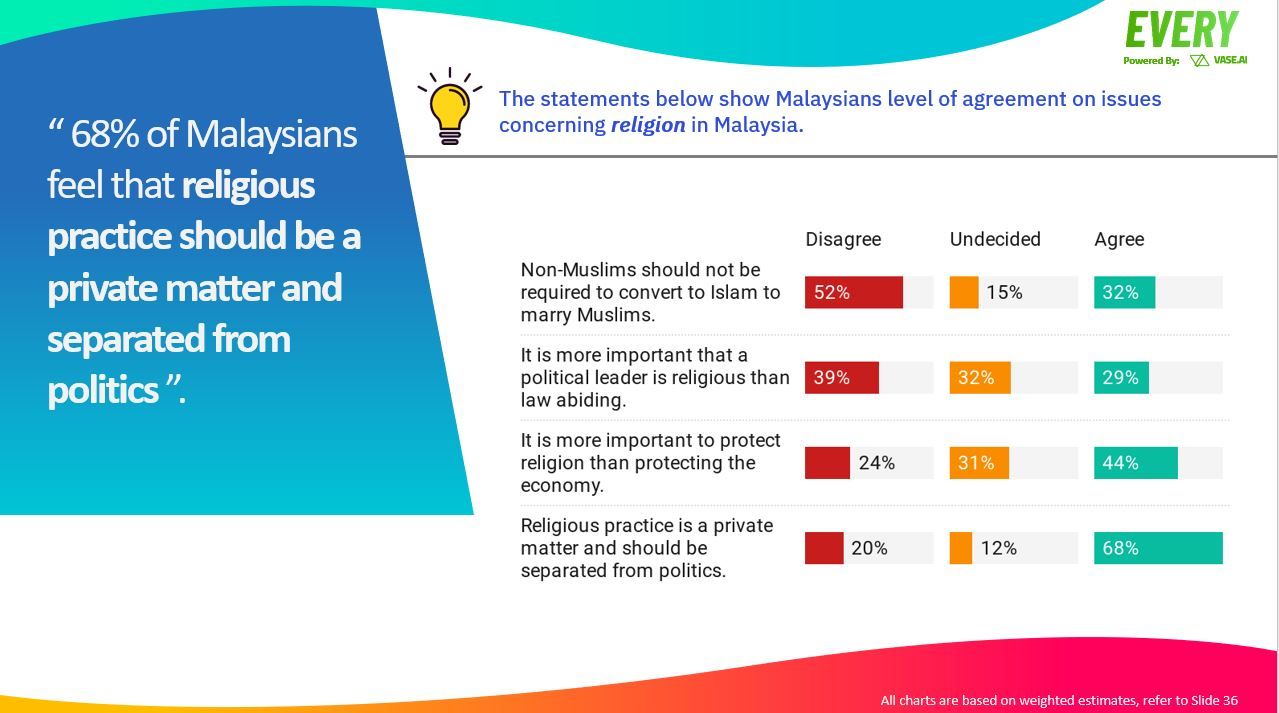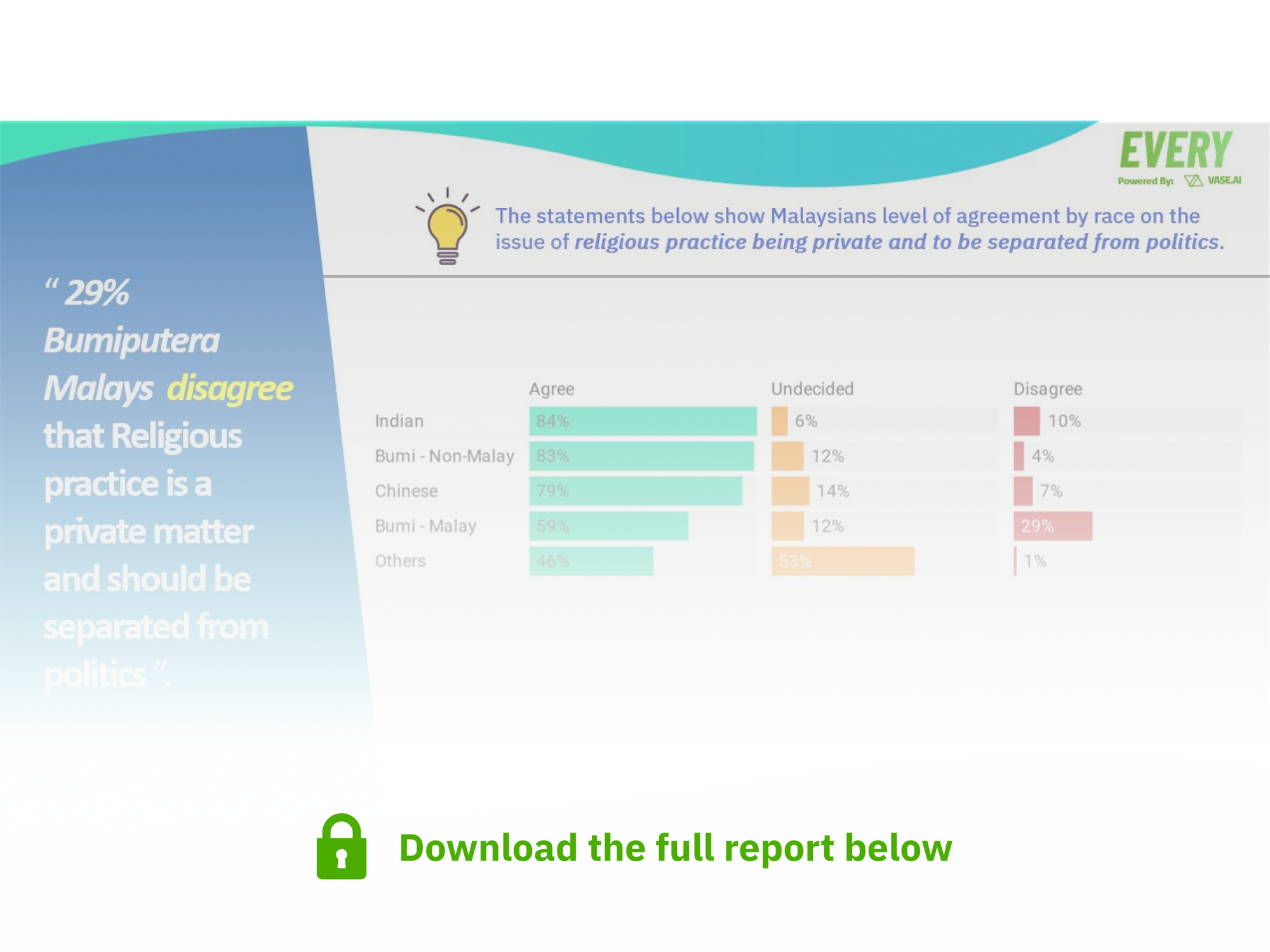 ---
This data is publicly available for use. If you are using this data, you would need to attribute the data to Vase.ai by stating "Survey conducted by Vase.ai in collaboration with Undi18, Architects of Diversity (AOD) & Women's Aid Organisation (WAO). Find the data at "https://vase.ai/resources/malaysia-temperature-check/"
If you would like to participate in surveys and get rewarded, please click here.
If you would like to find out more about our market research services, drop us your contact here.
This work is licensed under the Creative Commons Attribution 4.0 International License. To view a copy of this license, visit http://creativecommons.org/licenses/by/4.0/
---
The views and opinions expressed in the report above are an aggregate analysis taken from 1,027 respondents sampled according to Malaysian Census and Malaysian Internet Census data. This aggregate analysis does not necessarily mirror the values and opinions of Vase Technologies Sdn Bhd (1152290-M). Vase Technologies is the operator of a platform to collect user opinions, and as such will not take any liability for the statements above. In case of any damages or other liabilities arising, no party can be liable as the data above is taken in aggregate.