Keeping track of your competitors' achievements and failures is vital if you want to build an effective branding strategy that pulls in new customers and drives growth. Learning lessons from your competitors isn't cheating – it's good business sense that will help you to innovate and remain popular in a saturated market.
Unsure how to organise and run a competitor analysis? Don't fret – we've put together an easy-to-follow guide that will help you to identify gaps in the market, understand market trends, develop new offerings, and market your wares more effectively.
Step 1. Find your competitors and assess their offerings
You can't run a competitive analysis without figuring out who you're competing against first. If you're operating within the FMCG market, you're probably already well aware of the major brands out there. To ensure you discover as many competitors as possible, however, it is a good idea to talk to your sales teams and find out which companies they regularly come across. Similarly, you could check out social media platforms or online community forums to figure out which brands are being discussed and promoted by users.
Once you've completed this part of your market research, segment the competition by factors such as location or services offered to ensure your results are as granular and actionable as possible. Here's a table from Kantar detailing the top five FMCG brands in mainland China, for example: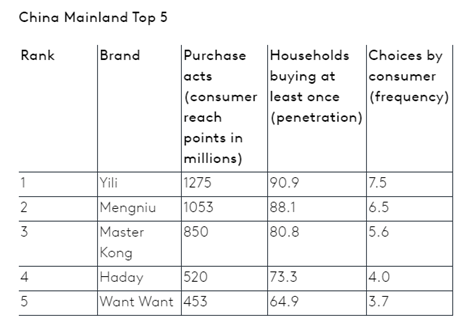 Creating a similar chart detailing the best-performing players in your sector will help to set your goals. By looking at penetration, for example, you can determine which brands are implementing the most successful marketing and awareness campaigns. Factors such as market share, on the other hand, could help you to ascertain which companies represent the best value for money or are the most trusted in your sector.
If your sector is highly segmented by product cost and quality, it is worth creating a graph like the following from creately: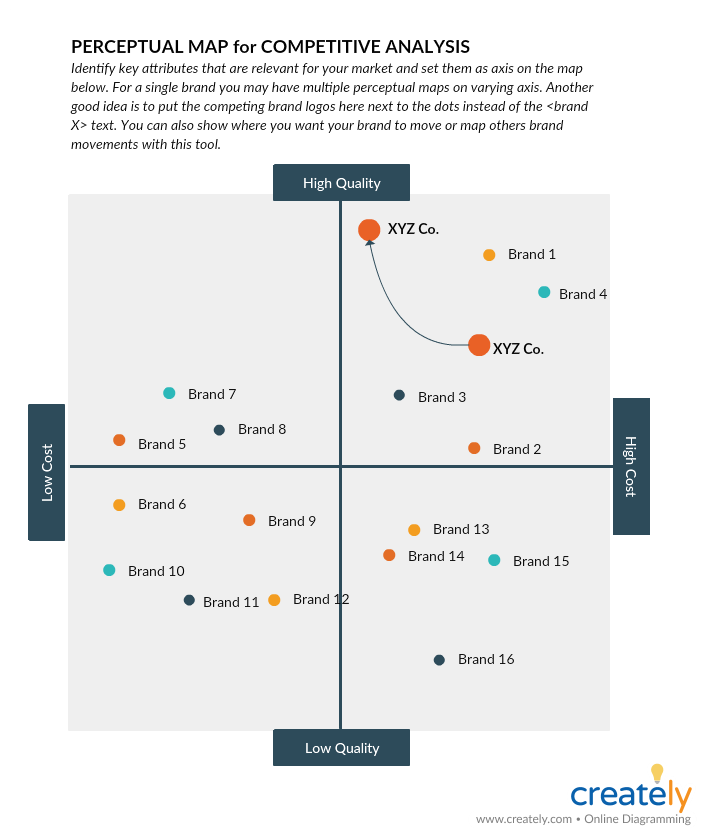 By placing yourself on this kind of graph, you will quickly be able to ascertain who your closest and most important competitors are.
Step 2. Research competitors' sales and marketing strategies
Next, you need to dig down into your competitors' sales and marketing strategies, assessing what strategies appear to be working as you go. Factors to consider include:
Marketing and sales channels
Are your competitors using paid ads, social media, or email marketing? Are they using an e-commerce site to sell their wares? Are they using a popular platform such as Instagram to make direct sales? If you're unable to answer these questions using search engines or market data alone, it is a good idea to issue an online survey for customers. Ask questions about what motivates them to invest in particular brands and use this data to hone your marketing strategies.
Content
High-quality content represents the bedrock of any decent brand building strategy as it helps boost search engine optimisation (SEO) and ensures customers remain loyal. What keywords are competitors using to stay ahead of other brands? How often are they posting content?
Pricing and special offers
Are your competitors winning customers via special introductory offers or low prices? How do your offerings compare? If possible, you may wish to trump their offer with something more attractive.
Step 3. Analyse competitors' social media presence and engagement levels
Social media channels can give away a lot about a brand's popularity and relationship with its customers. Look at factors such as their tone of voice, how often they post, and how they handle public criticism online. Do they post stock images or real images of their team in action?
Again, an online survey may be a useful tool with which to gather information about a competitor's customer engagement strategies. Ask respondents to rate the efficacy of specific campaigns and gather information about which social media platforms potential customers are most likely to spend time on.
Step 4. Find out what technologies your competitors are using
Ascertain which tools your competitors use to draw in customers and keep their offerings fresh. Are they using a cutting-edge new SaaS tool or customer service platform? Perhaps their e-commerce site is amazingly user-friendly?
If you're unsure how to find out such information, investing in a consumer research platform such as Vase.ai will help you to stay on top of developing trends almost effortlessly. Vase.ai allows clients to stay ahead of the curve by analysing the risks and opportunities affecting their business at any given moment. Try it today!
Step 5. Write up a final assessment and set goals
This is the most important part of your competitor analysis and you should dedicate a significant amount of time to it. Once you have collated as much information about the strategies your competitors are using, note down their strengths and weaknesses in a legible chart and work out how to respond to this information with concrete, actionable goals. Again, creately has created a useful SWOT analysis chart that could help to get you started: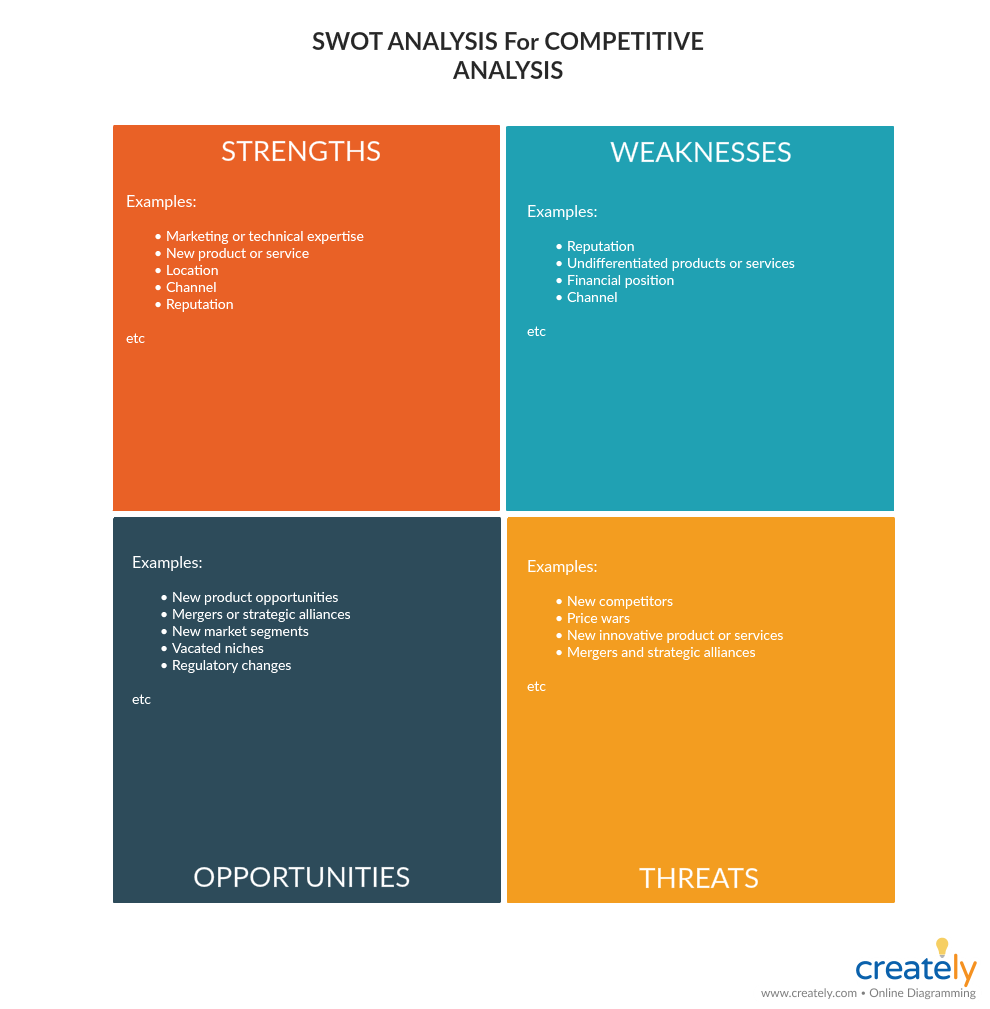 Reach out to Vase.ai today!
If you need a little extra help setting yourself apart from competitors and honing your branding strategy, Vase.ai is here to help. We harness the power of AI to deliver cutting-edge consumer research from as little as USD 1k. Get in touch today to find out more and discuss your options.
Talk to us today: vase.ai/contact